BCS Burmese Welfare and Rehoming Service
Anyone interested in giving any of the cats below a loving forever home, please use the contact details given by their present owner, either their email or phone number.
---
Solomon – Brown Burmese
18 years old
Neutered
His owners have both now passed away and his home is being sold. The new owners are not cat people, so he needs a new home.
Contact Fiona 07837 175510 (daughter of the deceased owners)
---
Two beautiful Burmese cats need a new home, these were my parents cats but sadly both my mum and dad passed away within 3 years of each other and I need to find a loving home for them as my husband is allergic to cats otherwise I would happily take them.
They are both 12 years old one is a girl named Bouncer and the other a male named Eros. They are so affectionate and loving, amazing with children and have no problem with other pets, they are both neutered. Please note they are house cats and so do not go out, they would sleep with my mum and dad as they are so affectionate. Very vocal and human like as you know the breed generally are. My parents had them since they were 8 weeks old, they are not blood brother and sister, they are from different parents. Bouncer is chocolate coloured and Eros is silver. They will come with their large litter tray too.
My contact is Anna 07968349935
---
If you think you can offer a home to an older pedigree Asian cat please email kimanicats@hotmail.co.uk
An Asian and Bombay breeder needs to find good loving homes for her cats due to a long term illness.
Thank you – Sarah Bower
---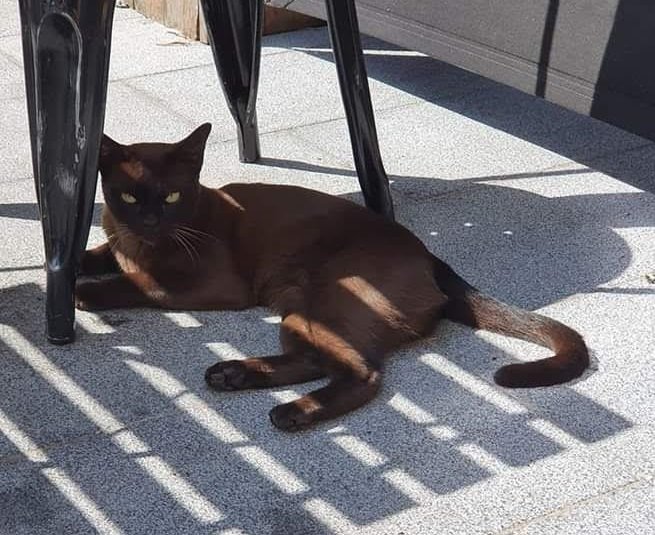 Luka left home on Tuesday morning but hasn't returned since. We have done everything possible to discover his whereabouts but to no avail.
Luka is 2 1/2 years old, spayed, microchipped but does not wear a collar. He is inquisitive, enquiring, very loveable, endearing and missed greatly.
If it is possible to assist us in finding him, we would be very grateful.
Telephone numbers are
02380636484
07581068919
Many thanks in anticipation
Janice Fenn (Mrs)
---
Missing in the Cornwall area
Above are a couple of photos of Ronnie. What the photo doesn't show very well is how tiny she is. She is probably the size of a 6 month old kitten. My telephone number is 07909914391 (my name is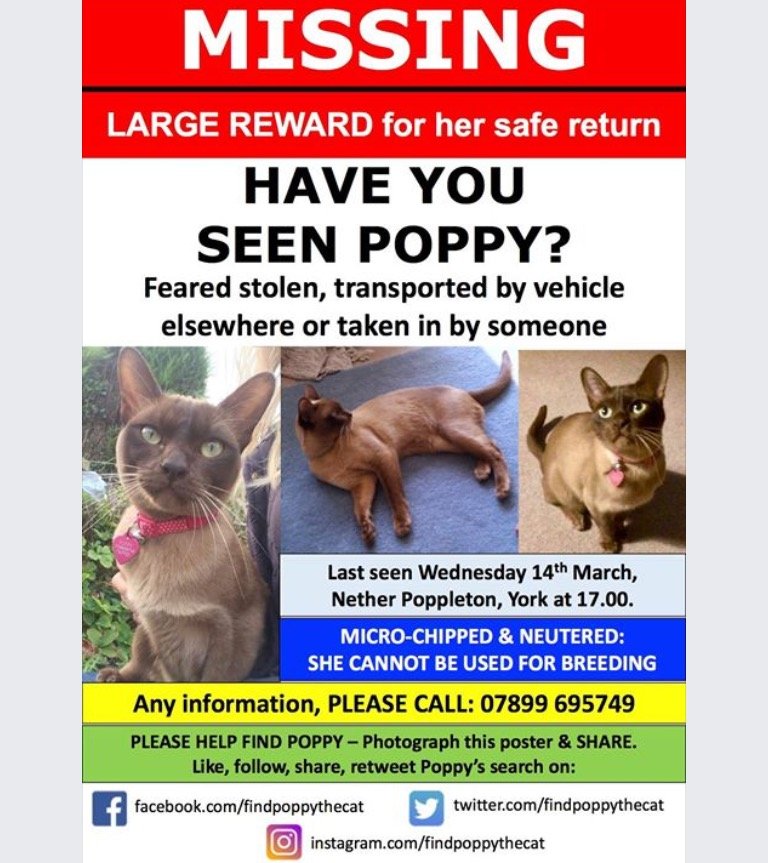 Please, could you help us find our 12 year old brown Burmese cat that went missing in Feb this year fro outside our home 20 Sandlea Park West Kirby Wirral. We had an extensive search locally with posters and adverts in the local paper but no definite sightings. We think he may have been stolen and may be taken in a car.
Oscar has a kink in his tail and can look black in certain light. This is like losing our child so we are totally broken.
particularly our mum who is nearly 103years old who was very close to the cat and would nurse him for a large part of the day. We also have another cat Oscars brother who spends much of his day calling for Oscar as they have been friends all of their lives.
This loss is life changing. We feel so helpless so please could you help.
Contact Alison Wright – david.max.wright@gmail.com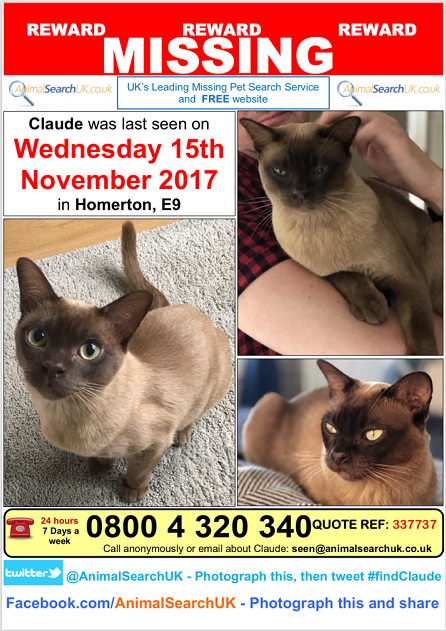 ---
Welfare: The BCS runs a welfare service for troubled, abandoned or lost Burmese cats across the UK. We have a number of safe houses where they can be cared for until their owner can be found or they can be placed in a new loving home. Our welfare officer is Margaret Walkden and details of the cats who we are currently looking after and needing a new home can be viewed by following the link below.
Rehoming service: In addition we are also able to provide a re-homing service for people who have Burmese cats that are looking for a permanent loving new home. This can be for a variety of reasons. Often breeding cats on retirement thrive in a home where they can be the centre of attention. And sometimes Burmese decide that they want to live alone rather than with other cats- they are all individual as you probably know! The re-homing list exists as a point of contact and is a service offered to members to improve the life of the Burmese cats in their care. However, an entry on the list does not constitute a recommendation by the Burmese Cat Society. We cannot guarantee the accuracy of the information given. We do ask that any health issues are stated and that cats being re-homed should be neutered. The list is the initial contact point between the cats current and future owners and the BCS cannot accept any responsibility for any subsequent problems that arise with the re-homing process. We are though committed to providing advice and assistance where needed.
Fund Raising: The welfare service can only survive through donations and fund raising events. We are always very grateful for any money sent to us and the money is vital to the continuance of the service. Donations to the Burmese Cat Society Welfare Fund are used exclusively for this work and your support is greatly appreciated. If you would like to make a donation then a cheque made payable to the Burmese Cat Society should be sent to: Inglewood, Glazeley, Nr Bridgnorth, Shropshire, WV16 6AB
If you have an urgent need to rehome a Burmese cat or there are issues of welfare or rescue please contact: Mrs Janet Wilshaw email:  rossikhan.wilshaw@btinternet.com tel: 07702 660092
If your need to rehome a burmese cat is not urgent and you are able to keep the cat until the new home is found, we can put the details on our website with you as the contact so you are fully involved in deciding the best new home for them. If this is the case please contact  Mrs Janet Wilshaw email:  rossikhan.wilshaw@btinternet.com tel: 07702 660092  with details of the cat(s), photo's and full details for the website.
**********************************
If we have nothing suitable for you try the Burmese Cat Club http://www.burmesecatclub.com/
The Burmese Cat Club is the larger of the two Clubs and they have a far greater network of safe houses if the need for rehoming is urgent. They are based in regions of the UK and their details can be found at  http://www.burmesecatclub.com/
If you are interested in any of the cases which appear on this page or are interested in homing a rescue Burmese in the future please contact the person linked to the advert.